It seems the cream does rise to the top. 11 years ago, Desean Pratt was mixed into the coffee of his local wrestling scene… and rise he did. Becoming one of the most well-respected wrestlers in his local scenes of both New Jersey and, of course, Philadelphia. But just over 24hrs ago, at 7:08am, DeSean Pratt announced his retirement from the sport of professional wrestling via Twitter.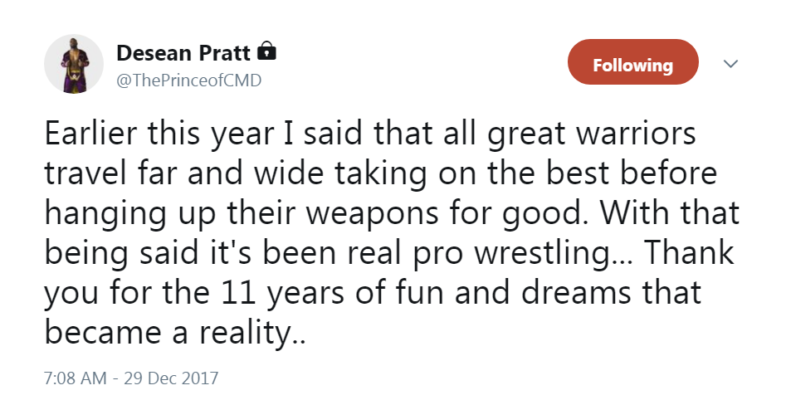 Pratt began his training alongside his oldest friend, a man who would go on to become Ophidian, one of the most innovative and creative wrestlers to ever exist. Pratt took the name and mask of Amasis and the two of them became the Osirian Portal. These men fit like the cogs of a clock and took offence to a whole new level. They also used defensive and evasive techniques never before seen in the sport. Their opponents were snake bit every time, and the Portal wrought a reputation of being small in size, but mountainous in skill.
For 10 years the two men fought side-by-side and became trainers at Chikara's Wrestle Factory. But in early 2016, Pratt decided to go it on his own, travelling to Mexico and putting his focus directly on a singles career outside Chikara, where he had competed for the majority of his career.
In November 2016, Amasis won a Deadly 7 Multi-Man match become the new Lucha Premier champion, ending the run of longest reigning Premier Champion of all time Carter Mason. But a mere week or two later, the newly-crowned champion competed in a Mask vs Mask match against his longtime rival Frightmare and would show up at the next Demand Lucha show working under his real name of DeSean Pratt, maskless.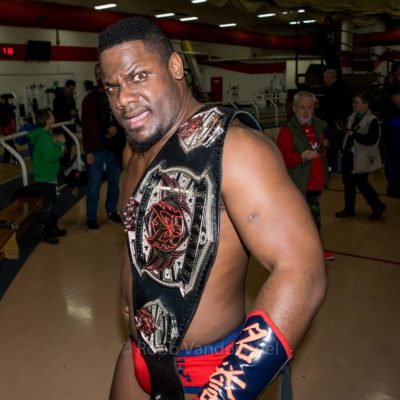 Pratt's first appearance for the company without his mask was going one-on-one with 2-time Champion Josh Alexander and it ended up being one of the top matches of the year. Pratt held the title for a full year. He went all the way to the next November reigning as Champion and beating Mason's record by one week, to become the longest reigning champion in company history. But no matter how far he went, he could never get away from the snake in the grass.
Arriving at Demand Lucha under the name "The Ouroboros", Pratt's longtime partner and on and off best friend/enemy, Ophidian, showed up for the company and seemed extremely supportive of his longtime friend. But after the hardest fought match of Pratt's career, defeating Lucha Underground star Jeff Cobb, The Ouroboros viciously attacked Pratt and made his intentions known. The Ouroboros was looking for Pratt's gold.
The men had fought many times at this point in their career, and although littered with Incredible moments, camaraderie and joyous victories… there had been just as many down times, grizzled battles and confrontations.
Pratt challenged the Ouroboros to a no disqualification street fight at the Demand Lucha Alliance event. The men fought all over the Alliance Banquet Hall, but eventually, The Ouroboros was able to topple his longtime friend with the help of his newest ally, Serpentico.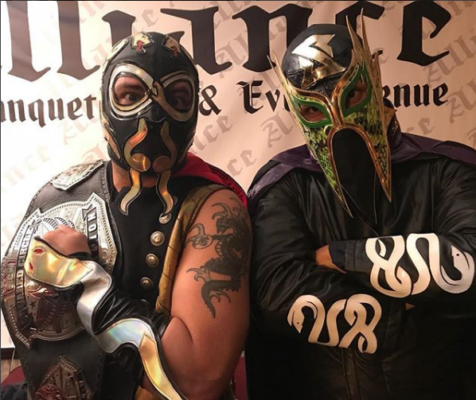 It's snake bit from the start it seems. 11 years on and Pratt was in the exact same spot. Fighting his best friend. With a broken collarbone and some torn ligaments, Pratt stared up at the lights wondering how his long journey had come full circle. The man he had thrown his first forearms with was now standing over him holding his greatest wrestling achievement in his hand. I don't know exactly why Pratt has decided to retire but we know that some of his injuries from the match were severe and deciding to continue the match to the end exacerbated many of them to the point of retirement. Whether personal problems or other factors have played a part, we don't know at this time, but we were honoured to have DeSean Pratt as our Longest Reigning Premier Champion of all time. You will be missed, sweet prince.