It seems the Lucha is going to get you… Even if you don't want it to.
For someone who has been rather vocal about his displeasure with suddenly being the champion of a "Lucha" league, current Openweight Champion Buck Gunderson seems to have changed his tune, looking rather smug this past week on Impact Wrestling when he delivered a message to Sami Callihan from Lucha Libre monolith and mega-mogul, Konnan.
The K-Dawg recently left The Crash Lucha and began working with Arolux starting up AroLucha. That, and the fact that he works for Impact, who have recently moved to Toronto, the very city Gunderson's Openweight title has been primarily defended in for the last 5 years, lead some to speculate Gunderson has used his new position as a spokesperson and ambassador for DEMAND! to start negotiations to work for AroLucha.
Gunderson's relationship with DEMAND! has been rocky from day one. Forced into 3-way and 5-way matches that he's never had to deal with before, The Openweight Champion has been openly broadcasting to cohorts backstage about how he is being punished for aligning with Mysterion per-merger. For 5 years the championship was traditionally defended in one-on-one matches with the exception of the yearly Iron Man Rumble.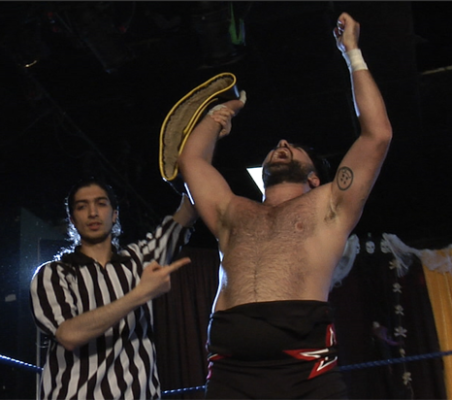 Yet in under 4 months the DEMAND! board of directors has had Gunderson in three different multi-man matches for his championship. Although coming out with the win in each case, Gunderson has not been shy about telling people he's going to take some steps to make a change. Many believe those changes are a jump to Arolucha and taking the Openweight Championship with him, where he claims the title will be respected as the "Wrestling" championship.
Gunderson has already irked DEMAND! higher-ups by refusing to defend his title at the recent ALLIANCE show in November. With the recent merger of LuchaTO and Hogtown, the waters are murky and Gunderson is synonymous with the Openweight title, holding it 3 times, with a combined days reigning that dwarfs other holders. Him taking the title to another league permanently would not be that farfetched an idea. Whether he can make it official or whether he'd be a journeyman champion like ICW/ICWA Tex-Arkana Television Champion Larry Sweeney, remains to be seen. Stay tuned here for more.
—————————————————————
See Gunderson defend the Openweight Title in a 5-Way Scramble