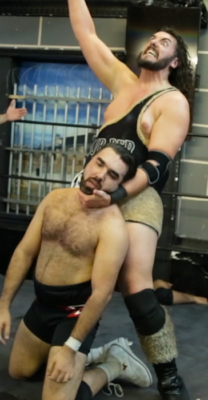 With Team Bradley winning the Main Event of the Death of Hogtown show, all rights and property pertaining to Hogtown Pro Wrestling were turned over to President Matt Bradley and Hutch Henries. That's great… only one problem, there is nothing left. Turns out the entire tape library, the rings, the contracts, pipe and draping, banners, signs… everything. Gone. Mysterion sold it all before the event…. and most of it to partners LuchaTO.
As one would imagine, Matthew Bradley was fairly dejected. Bradley had big plans for the future of Hogtown and had just gotten himself fulltime work at Santino Marella's Battle Arts Pro as both an administrative worker and full time ring announcer.
Bradley decided to throw his energies behind those endeavours and sold the remaining rights to the name, property and the openweight title to longtime commentator Hutch Henries. Hutch Henries now owned Hogtown Pro lock, stock and barrel… what little was left. That's when Henries did what most promoters wouldn't. After 2 years of handling production for LuchaTO, Henries had the connections and worked a deal to merge Hogtown and LuchaTO in exchange for a full partnership. Instead of trying to rebuild the company he had been with since day one, he conceded and realized that the two companies would be stronger united.The openweight title was made LuchaTO's secondary title and the entire brand was renamed Demand Lucha with a streaming service providing content from both leagues through VCW, Hogtown, BSE, Squared Circle, LuchaTO and more.
We are proud to present the Main Event from Mysterion's Death of Hogtown, a trios match for the rights to the company and the match that was the catalyst for the creation of Toronto's newest wrestling powerhouse… DEMAND LUCHA. Since Mysterion was running this event, it was hard to get footage from him as he refused to co-operate, but we procured a copy of the hard cam and some limited fan footage. Enjoy.